Whether you want tricks or a treat, there are a lot of fun ways to celebrate Halloween in the Valley. Halloween is such a unique holiday because there are so many ways to get in the spooky festive spirit, whether you choose to visit a haunted house, go to a costume party, or spend the day carving pumpkins with your family. Plan your next two weeks accordingly to make the most of all the Halloween themed events taking place!
13th Floor Haunted House
Photo credit: 13th Floor
For those who love a good scare, 13th Floor Haunted House is a must-visit stop before Halloween this year! This haunted house allows you the opportunity to walk through several haunted attractions that are sure to leave you feeling spooked. 13th Floor is described as being an intense theatrical show complete with an aspect of psychological horror. If this sounds like your definition of a great time, plan a date night or outing with your friends to visit on Bell Road in Phoenix!
13th Floor Haunted House is open from 7-10 pm during the week, and from 7 pm until midnight on the weekends up until Halloween. Their website suggests that this event is too intense for children under twelve years of age. The closer it gets to Halloween night, the more likely it is that the 13th Floor Haunted House will be sold out, so make sure to plan your outing in advance!
4th Annual Halloween Bar Crawl Scottsdale
Photo credit: Houstonia Magazine
With Halloween falling on a Sunday this year, it presents an opportunity to spend the entire weekend celebrating! For adults looking for a way to get festive and enjoy the holiday weekend with friends, you have an opportunity to participate in the Boondocks Patio & Grill Bar Crawl! You have to purchase tickets in advance to join this event, which takes place on Saturday October 30th.
Your ticket to participate includes 2 free alcoholic beverages, waived cover fees at all the venues, an opportunity to get your picture taken by a professional photographer, and access to an exclusive bar crawl afterparty. Plus, joining the Halloween bar crawl also gains you access to the crawl map, which will help you navigate through all the stops along the way.
The official check-in is between 4-6 pm at Boondocks Patio & Grill, and there are more than seven other local bars participating in the bar crawl that are offering lots of fun holiday themed drinks. Check out the $5 "Devil Went Down to Georgia" drink at Dierks Bentley's Whiskey Row, or the $3 Hocus Pocus special at Riot House! This is a great opportunity to wear your best Halloween costume, as there is a $1,000 grand prize for the best costume of the night.
The Halloween Stroll in Tempe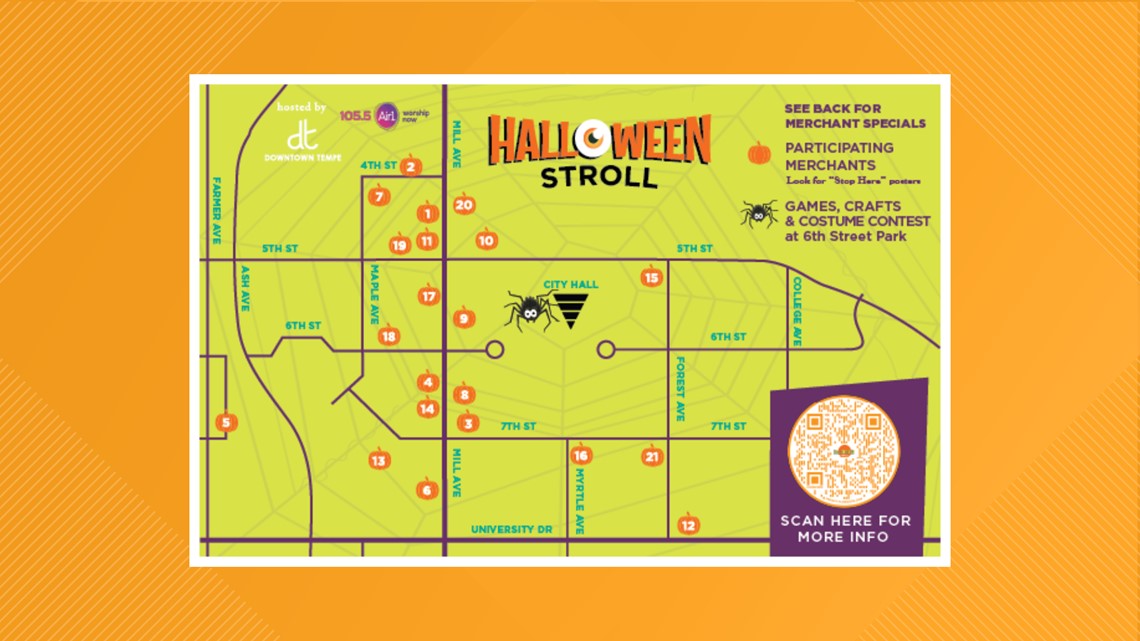 Photo credit: Raising Kids Arizona
Take the Halloween Stroll in Downtown Tempe on Sunday, October 24th from 2-5 pm. This fun afternoon event offers you a chance to really explore Downtown Tempe and many of the local businesses in the area. There will be outdoor trick-or-treating at many of the downtown stores on 6th Street, along with Halloween crafts, face painting, and games. The celebration starts at 6th Street Park, where there will be a costume contest hosted by Air1Radio.
Enjoy a Bewitching Soiree at Cooper's Hawk Winery
Photo credit: Cooper's Hawk
Partake in a Halloween themed night out for adults at Cooper's Hawk Winery on Frank Lloyd Wright Boulevard! The Bewitching Soiree is an evening full of delicious spooky cocktails, a three-course menu, and Cooper's Hawk wine. All dinner guests are strongly encouraged to wear black to set the Halloween mood!
This special event is taking place next Tuesday, October 19th from 7-10 pm. It costs $69 per guest for the wine club dinner menu, which features a dark magic cocktail to start, pretzel bread & butter, and your choice of jumbo shrimp or grilled tenderloin for an entree.
Fear Farm and Haunted Corn Maze
Photo credit: The Arizona Republic
Fear Farm is a large outdoor haunted attraction in Glendale, complete with a 10 acre corn maze and indoor attractions including The Bunker and The Plague. Fear Farm is at a new location this year, but offers the same thrills and chills. Your time at Fear Farm is sure to be an evening you never forget, but guests are welcome to take photos to document the experience with the Fear Farm entertainers. It usually takes about an hour to make your way through all the Fear Farm attractions.
If you want to make your outing more enjoyable, you can purchase a fast pass to cut down on the time you have to wait in line while at Fear Farm for an extra $20.
Dunkin' For Pumpkins
Photo credit: Signals AZ
On Sunday, October 24th, you can participate in Dunkin' For Pumpkins at the McDowell Mountain Ranch Aquatic Center to enjoy their floating pumpkin patch! While it may be a little chilly for swimming weather these days, the McDowell Mountain Ranch pool will be heated. After you get your pumpkin out of the water, there will be outdoor stations to decorate your pumpkin and learn more about water safety!
This would be a great activity for kids who love to swim and want to try a less traditional pumpkin patch experience. You can reserve one of the two time slots, from 1-3 pm or 3:30-5:30 pm and it costs $15 per pumpkin.
Trunk Or Treat at the YMCA
If you are looking for a safe way for your kids to participate in trick-or-treating this year, the YMCA is hosting a Trunk or Treat event for Scottsdale and Paradise Valley families! This event is taking place on October 23rd, from 4-7 pm in the Scottsdale YMCA parking lot. It's a great way to get another wearing out of all your adorable Halloween costumes and to extend the Halloween celebrations over two weekends. The Trunk or Treat event is free to the public to attend, although donations to the YMCA are encouraged. All of the Trunk or Treat proceeds will go to support YMCA scholarships.
On top of the candy, there will be carnival games and fun fall-themed crafts! There is also an opportunity to volunteer at this event if you are interested in helping the YMCA ensure Trunk or Treat runs smoothly this year.
A lot of the Halloween celebrations taking place in the Valley this year are happening in the week leading up to Halloween, leaving Halloween night open for you to enjoy passing out candy or spending time with your family. Put your costumes to good use and make the most of the rest of October by getting out to celebrate at one of these events.
Hits: 8