EXPERIENCE AZ | 14 Sep
LON's Last Drop, Hermosa Inn's casual cowboy-chic bar and grill, known for its hand-crafted cocktails and expansive menu and outdoor patio, will host a dinner series featuring several Arizona originals: Fate Brewing Company, Del Bac Whiskey, AZ Distilling Co., plus Azuñia Tequila, a premium handcrafted tequila made of 100% pure Weber Blue Agave grown on the family-owned farm in Jalisco valley.
The first dinner pairs Fate Brewing Company's small-batch beers with LON's Executive Chef Jeremy Pacheco's globally-inspired Arizona cuisine on October 30th and celebrates their collaboration with the introduction of LON's Peach Wheat, produced from more than 300 pounds of locally grown peaches from Pinnacle Farms; a Citrus Session IPA and a stout barrel-aged in LON's Last Drop's private Del Bac whiskey barrel.
The three-course dinner with beer pairings is $79 per person (includes tax and gratuity) and begins at 6 pm with passed hors d'oeuvres on the patio.
For reservations: Call 602.955.7878 or visit https://www.hermosainn.com/scottsdale-paradise-valley/event-registration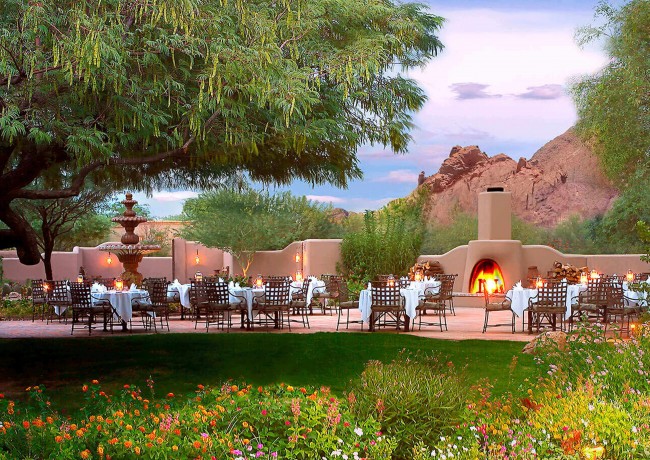 Journalist: Art and observation classes at The Hermosa Inn
The Hermosa Inn announced its third year partnering with the Scottsdale Artists' School to create a unique and interactive Journaling: Art and Observation Series, held on the picturesque grounds of the hotel.
From first timers to experienced artists, local artist and illustrator Devon Meyer will unlock participants' creativity and hone their observations skills as she awakens them to the elaborate patterns and gorgeous colors seen in plants, birds and flowers. Devon will provide personalized step-by-step instruction throughout the workshop to include sketching and drawing techniques, watercolor skills, and tips on how to use the vivid light and hues of the day.
The $85 fee includes instruction, tax and gratuity, all supplies, a journal sketchbook, a mimosa and pastries for morning classes, and wine and appetizers for afternoon classes.
Information: Call 602.955.8614 or visit: https://www.hermosainn.com/scottsdale-paradise-valley/event-registration
Address: 5532 N Palo Cristi Road, Paradise Valley, AZ 85253
Saturday, October 26, 9:30 – 11:30 am:Nature Journaling. Learn how to become a more attentive naturalist as Devon shares techniques to help better illustrate and appreciate the local flora and fauna.
Saturday, November 16, 1:30 – 3:30 pm: Sonoran Desert Greens. Learn techniques to show texture, detail, depth and drama creating wonderful botanical illustrations of agaves, mesquite trees, saguaros and prickly pears.
Saturday, February 22, 9:30 – 11:30 am: The Mysterious Ways of Nature. Utilizing natural dynamic subjects seen in various desert animals, birds, plants and more, Devon will explore techniques to increase focus, create design elements quickly, and add color to the journal pages.
Saturday, March 28, 9:30 – 11:30 am: Flowers in the Field. Discover the joy and beauty of the desert bloom as it explodes into color this spring. Mix and match pencil, ink, and watercolors to create a floral journal.
Saturday, April 25, 1:30 – 3:30 pm: Palette of the Desert. Capture the essence, elaborate patterns, vivid colors and the beauty of the desert in this class, which will include yuccas, cacti, desert lizards and hummingbirds.
Hits: 1