Every year in the Valley, all of the best restaurants come together for Arizona Restaurant Week, which is taking place from September 17th-26th this year. AZ Restaurant Week has over 120 restaurant participants this year, with restaurants from all over the state. Whether you are a diehard foodie or are just interested in exploring more of Arizona's best dining experiences, Arizona Restaurant Week is the time to do it!
Participants have an option to dine at all types of restaurants, with everything from casual Southwestern restaurants to high-end five star restaurants. All of the restaurants that are participating offer a special rate during Restaurant Week, often making it more affordable to dine than at other times of year. Most restaurants offer $33 or $44 a person meals during this event.
To make it even better, most of the restaurants put together special tasting menus that allow the diners an opportunity to sample even more of the menu than you would during a traditional dining experience.
You do not have to be an Arizona local to participate in AZ Restaurant Week, and you do not need an official ticket to attend. Check back on their official website to see the most updated list of all the participating restaurants. It is important to note that the demand to dine at all of these restaurants will be extremely high during that week, so it is strongly encouraged to make reservations in advance. This incredible event is not just limited to restaurants in Phoenix, and you will find a number of participating restaurants from all over the state. We are highlighting some of the most exciting restaurant participants from around the Valley this year.
Chelsea's Kitchen
Photo credit: Great Phoenix in Business Magazine
A classic Phoenix favorite, Chelsea's Kitchen is a fun spot to eat Southwestern cuisine. Located in a standalone brick building off the intersection of Camelback Road and 40th Street, this spot is full of charm and offers a fun dining experience whether you sit inside or dine out on the large outdoor patio. The restaurant offers the best of modern Southwestern food, and some local favorites are the halibut crudo and sangria. Chelsea's Kitchen is offering a $44 set menu for Restaurant Week. Make sure you grab one of their signature salted chocolate chip cookies on your way out!
Farm + Craft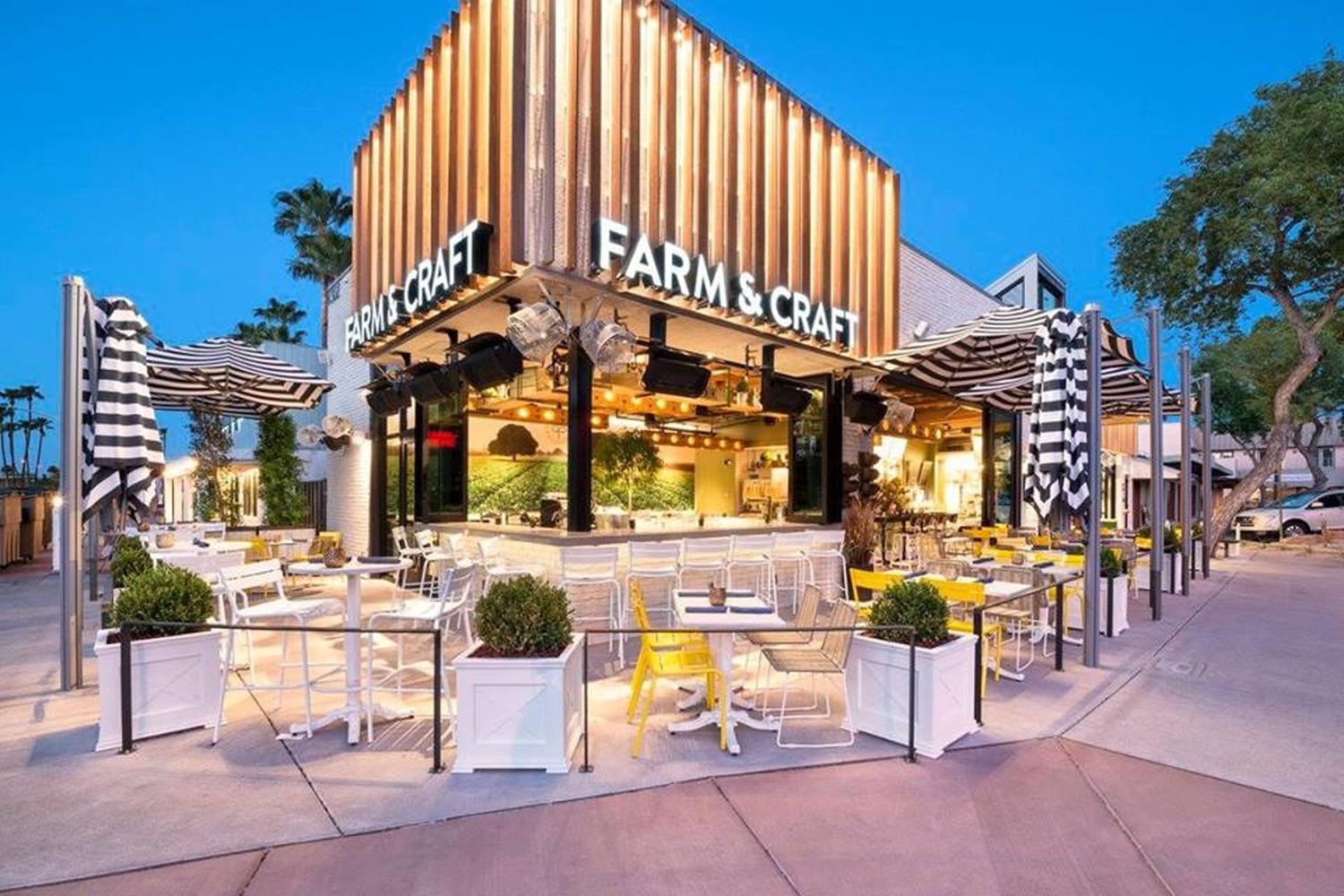 Photo credit: LGE Design Build
Farm + Craft is an Old Town Scottsdale staple, serving a delicious selection of unique and healthy meals. The restaurant itself has a very trendy ambiance with neon signs and murals, and is full of photo opportunities. The restaurant prides itself on providing sustainable food with hormone-free ingredients. For $44 a person you can enjoy a 3 course meal with an appetizer, entrée, and your choice of a dessert or cocktail. This is a great restaurant if you are dining with someone who is very health-conscious or has food allergies.
The Barking Bodega
Photo credit: The Barking Bodega
The Barking Bodega is a farm-to-table restaurant in Tempe, Arizona located on Weber Drive. This restaurant works in collaboration with Singh Organic Farms to source the ingredients for their recipes. The menu changes seasonally, so during Arizona Restaurant Week you can enjoy their fall menu offerings. Their current specialties include a sunrise bowl with sweet potato hash and a veggie lasagna.
The Barking Bodega gets its name because in addition to the restaurant, they also have an enormous dog park built into a grassy area nearby. The Barking Bodega costs $33 a person, making it a more affordable option for Restaurant Week. They even have a menu for the dogs that has elevated choices like a "barkin bowl" or a "scooby snack" complete with peanut butter and egg.
Lon's At the Hermosa Inn
Photo credit: Hermosa Inn
Lon's at the Hermosa Inn is an ideal spot to celebrate a special occasion, whether it's a birthday party or anniversary meal. The Hermosa Inn is a small luxury resort tucked away in Paradise Valley, with immaculately manicured grounds. Lon's is situated at the front of the resort, and offers an upscale dining experience indoors or on their front garden patio facing the mountains.
You will enjoy award-winning dishes during Arizona Restaurant Week, costing $55 a person. Their set menu for the week includes smoked corn tortellini to start, with Osso Bucco and Chilean sea bass on the entrée menu. Finish your meal with a delicious peanut butter pie for dessert. Drinks aren't included as part of the fixed menu price, but they also offer a large selection of signature cocktails made with locally sourced ingredients.
Lou Malnati's Pizzeria
Photo credit: Forbes
This pizza joint sits at the corner of Central and Camelback in Phoenix and is perfect for those craving an authentic deep dish pie. Lou Malnati's is one of the most iconic pizza restaurants that has come to the Valley from Chicago, and remains just as delicious as the day the first Lou Malnati's first opened over 50 years ago.
At Lou Malnati's, you will be served Chicago-style deep dish pizza that has been handmade from scratch. This outstanding pizza spot is known for their signature "buttercrust" that has been passed down through many generations. If you have never experienced Lou Malnati's Pizzeria before, Arizona Restaurant Week is a great way to sample a lot of their menu and find your favorite topping combination.
During Arizona Restaurant Week, they are offering a few different choices when you dine. If you are dining in, they are offering a deal for $33 per two people for a small deep dish pizza with two toppings and two pastas of your choice. If you bring your family or choose to dine with friends, there is another option to spend $44 per four people and that includes a large pizza, family sized salad, and chocolate chip pizza. Lou Malnati's also offers special take out options during Restaurant Week as well, allowing you to bring home a full three course meal to enjoy at home.
The Gladly
Photo credit: The Gladly
The Gladly is near the Biltmore Fashion Center in Phoenix and offers a trendy eating experience with the same owners as Citizen Public House. The restaurant serves lunch and dinner, and has one of the more extensive Restaurant Week menus. At $44 a guest, you can choose from a starter soup or salad, your choice of entree with options like coffee rubbed short ribs or pan seared scallops, and finish your meal with their third dessert course, whiskey bread pudding. Something to note before you go is that their Restaurant Week menu is only available for dinner.
Arizona Restaurant Week is a great way to learn about all of the amazing restaurants around the state and showcase the culinary talent in the Grand Canyon state. Especially this year, attending restaurant week is a great way to support local businesses and help stimulate the local economy. Start making those reservations now, and we hope you find your new favorite restaurant!